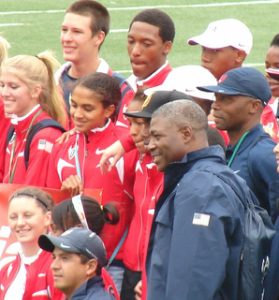 Track Houston athletes will contest the World Youth Trials on 6/29 in Michigan. The World Youth Trials is the younger version of the USA National Championships. It is the proving ground for future NCAA champions and US Olympians.

At the meet, the top two in each event will immediately travel to Italy to represent the USA at the international level. Our club head coach, Joseph Felder is a member of the coaching staff. This is a great honor and well deserved! Coach Felder is a prior USATF Coach of the Year and co-heads the largest youth track club in the world…Track Houston! He leaves this weekend to travel with the team to Italy representing the USA. We are very proud of him and this greatest achievement as a coach of young athletes.

Athletes who have earned the opportunity to participate in the World Youth Trials: Shahira Ehiemua (sprinter), Sylvonna Thompson (hurdles), Craishia Washington (sprinter), Isis Wilson (sprinter), and Kristen Mitchell (sprints). Each had to meet elite status times in their events to qualify for competition. Each are ranked tops in the national in their events.

Also note, athletes Matt Kosecki (UCLA signee) and Cameron LaCour (UofH signee) will compete in the USA Junior Nationals in Eugene, Oregon. This event automatically advances each to the 2009 Junior Olympics. Thank you guys for representing Track Houston in your last youth events. We look forward to a highly successful collegiate career from both gentlemen.