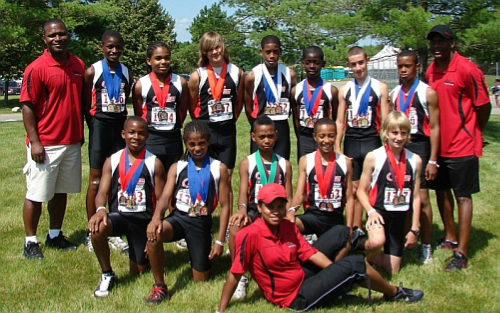 More than 50 Track Houston athletes traveled to Ypsilanti, Michigan to compete in the USA Youth Outdoor Track and Field Championships. This meet brought fierce competition from all across the country including teams from California, Florida, and Georgia.

As a result of our athletes training and hard work, they earned a total of 133 medals including many 1st place awards. In addition, National Team Championships were awarded to the Midget Boys with 92 points, Youth Boys with 65 points, and Intermediate Girls with 63 points.

A special note goes to the Midget Boys who won 1st place in the 4x100m relay, 1st and 2nd in the 4x400m relay, and 1st and 2nd in the 4x800m relay. The midget boys also earned many individual medals but their collective effort earned them the National Team Championship with 92 points. They earned the must points of any age group team participating in the meet this year, and have one of the highest scores of any midget boys team in history. The 2009 Track Houston midget boys team is only second to the 2001 Track Houston midget boys team who scored 113 points.