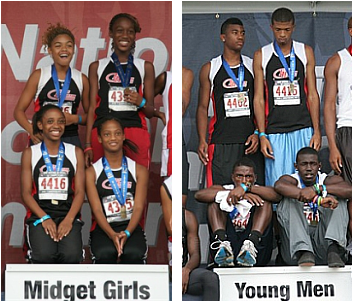 This year in Greensboro, North Carolina, our midget girl squad won gold in the 4×100 and the 4×400 meter relays. Over the last three Junior Olympic meets this division has earned 63 medals and have won gold in the 4×400 meter relay each year.

The Young Men's division, also took the 4×400 gold for a second straight year. Traditionally a strong age division for Track Houston, the young men in past years have presented two squads in the Junior Olympics finals. In the intermediate boys division, Derreck Edwards also won gold in the Triple Jump.

Our athletes earned over 90 Junior Olympic medals which was more than any other track club in attendance at this national event. Medals included 13 Gold, 13 Silver and 6 Bronze in the sprints, hurdles, jumps, throws and relays. For all Track Houston results from the 2009 USATF Junior Olympic, go to trackhouston.com and select the Schedule & Results menu.

Our results prove our methods and infrastructure foster excellence not only for our elite athletes, but also for the hundreds of children who join Track Houston each year having no prior track and field experience.