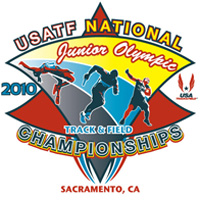 This year's USATF National Junior Olympic held in Sacramento California highlighted over 150 Track Houston athletes accompanied by more than 120 Track Houston coaches, staff members, and parents. Our Vice President and Travel Coordinator Brenda Foster did an excellent job coordinating flight plans, hotel accommodations, and ground transportation.

With their travel arrangements taken care of, coaches and athletes could concentrate more on preparing for the level of competition expected at the Junior Olympic and with strong support, this year our athletes amassed a total of 146 medals which included 8 first place awards.

One of our elite athletes Kendall Sheffield won gold in the 100 meter hurdles and was less than two-tenths of a second off the National record in winning the 200 meter hurdles. Kendall is also recognized as the top hurdler in the country in the Youth Boys division ranked No. 1 in the 200m hurdles and No. 2 in the 100m hurdles. He won his third gold medal as part of the Youth Boys 4×400 meter relay team.

The Youth Boys had a spectacular meet earning a record 26 medals for their age division and has the nation's top 4×400 meter relay team. The Youth Boys had a second 4x400m relay team to medal 4th and had two 4x800m relay teams to medal in the finals.

The Intermediate Girls won gold in the 4×100 meter relay and retained their No. 1 ranking in the country.

The Intermediate Boys 4×800 meter relay race came down to the finish, with Track Houston 8:01.06 beating Glenarden 8:01.29 by just two-tenths of a second in the final few meters. The 4×400 meter relay race lead went back and forward between Track Houston and other teams but it was Track Houston that pulled away with 100 meters left to win first place.

Zarriea Willis, Taylor Bennett, Farrin Davis, and Alaysah Johnson were the only Youth Girls 4×400 meter relay team to run under 3:50 with a winning time of 3:49.69 in a race where Track Houston lead from beginning to end.

In the Young Women division, the 4×800 meter relay team ran away from the field to win gold with a time of 9:13.84. They also had a second 4x800m team to medal in the finals.