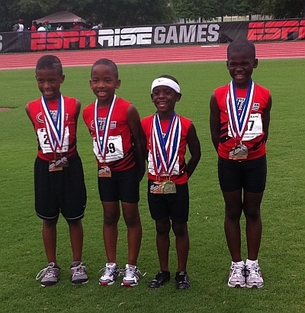 Extended-season congratulations are in order for the following team members who represented Track Houston at the AAU Primary National Championship. The event was held in Orlando, FL from July 8 through July 10, 2011.

In a highly rewarding end to his inaugural season, Jalen Davis, age 6, represented the Pee-Wee Boys running a 9.54 in the Multi-Event to secure a Gold Medal for the team in the 55 meters. He went on to leap 6-08.50 in the Long Jump and threw 7-02.25 in the Shot Put, for a total of 994 points. Davis proceeded to toss a 10-3 in the Shot Put and ran a 35.26 in the 200 meters which earned him two Silver Medals. Finally, his 16.96 in the 100 meters earned him a 5th place medal.

Kudos to Mitchell Mosby, age 7, who represented the Sub-Primary Boys by running the 100 meter dash in 16.79 to earn a 7th place medal. Mosby also ran the 400 meter Dash with a time of 1:33.13 and the 200 meter Dash with a time of 36.42 placing 15th overall for both events.

Cameron Chretien, age 8, vigorously represented the Primary Boys by running an outstanding 40 meter Hurdles to take the Bronze Medal in 9.17. Chretien jumped a 10-8.50 to secure 6th place in the finals. He also participated in the 100 meter Dash with a time of 16.19, placing 20th overall. For the Triathlon, Chretien ran an outstanding 34.24 in the 200 meters, jumped 9-5.75 in the long jump and tossed a 15-01.50 in the Shot Put for a total of 599 points. Chretien placed 11th overall.

Jadin Cooper, age 8, was not to be outdone. Also representing the Primary Boys, Cooper ran an 8.82 in the 40 meter Hurdles to score a Silver Medal. His rewarding efforts in the Triathlon consisted of a 35.06 in the 200 meter Dash, an outstanding 9-11.25 leap in the Long Jump and an equally-outstanding 20-01.00 throw in the Shot Put for a total of 872 which earned him an 8th place medal. Cooper's 11-02.50 jump earned a 4th place medal overall in the long jump and a toss of 17-2.50 put Cooper in 11th place overall in the open Shot Put.

Let's continue to encourage all of our fierce competitors. They had a great season. Appreciation is also due to the dedicated parents who are an integral part of Track Houston. Way to go Track Houston!!!!!!!