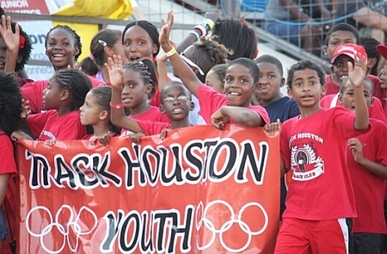 "We're not in Kansas anymore Toto", but wow, what a performance our athletes put on while they were there amassing a Track Houston record total of
171 medals
from the 2011
USATF National Junior Olympics
in Wichita, KS. This meet proved to be very challenging in heat of 104 degrees plus, but it did not deter our athletes from accomplishing their tasks.
Their accomplishments included
10 first place awards
and 53 others from 2nd to 8th place.
Starting this year, USATF included the Sub Bantam division (ages 6-8) in their national competitions and our
Sub Bantam Girls
took every opportunity to show why they belong on the national stage. In the 200 meters
Dynasty McClennon
took gold with a time of 29.48 and silver in the 100 meters with a time 14.55. To not be out-staged by her team mate,
Jalen Elrod
made a dramatic come from behind win in the 400 meters to claim her own national gold medal. The Sub Bantam girls also won the 4×100 and 4×400 meter relays.
In the
Sub Bantam Boys
division, the 4×400 meter relay team won gold in an unusual fashion where a team of 4 athletes ran in the prelims and another one in the finals. The coaches strategy and total team effort worked well for the Sub Bantam Boys in securing first place in the 4×400 meter relay race.
In his second year of high jumping,
Caleb Cavanaugh
of the Bantam Boys division won this event with a jump of 4'9″ to clear the bar. Observing the height of his mother and father, Caleb will be participating in this event for a long time and certainly bringing home more gold.
In the
Midget Boys
4×100 meter relay race, Track Houston was the only team to run under 50 seconds in the prelims and finals to win gold with a time of 49.60.
In a repeat performance the
Intermediate Girls
won the 4×100 meter relay for a second year in a row. This year the girls added the 4×400 meter relay win to their collection of gold medals and is ranked No. 1 in the country in both relays.
The
Intermediate Boys
capped off the evening with the 4th Track Houston 4×400 meter relay win. This race was almost in parallel to the way the Intermediate Boys won this race last year but with 3 different athletes proving that they could do the job as well.
Excerpt from
www.yourhoustonnews.com
[. . . . Track Houston proved to be the relay kings in Wichita earning the bronze medal or better in 16 relay races, seven of which were national champions. The club won twice in the Sub-Bantam (ages 6-8) Girls division with Jalen Elrod, Maryah Hampton, Daja Maxey and Adaora Nwokeji running a 1:01.01 to win the 400-meter title and Dynasty McClennon stepping in on the mile relay championship (5:05.18). . . .]