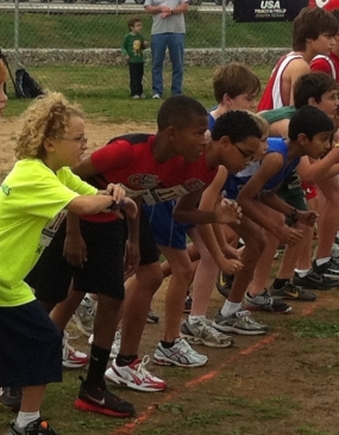 Track Houston's Cross Country program is in its infancy compared to the track and field program but headed by Coach Kenya Artis, it is on the fast track to becoming an elite program. It was a drastic change from the summer heat of 104 degrees plus, to cool fall mornings of 40 to 60 degrees temperatures, nevertheless our athletes competed strongly against local competition throughout the season.

Track Houston had 11 athletes to compete in the USATF Gulf Championship meet that qualified for the state Region 12 meet in Marble Falls, TX. At this meet Coach Artis and Coach Keith Evans accompanied 8 athletes of which all of them placed in the top 15 medal qualifying positions. Our athletes had a great experience and ran their best times of the season. In the Sub Bantam Girls race our 2 runners missed out on the team award by 1 point but all of our athletes qualified for the USATF National Junior Olympic Cross Country that will be held in Myrtle Beach, SC on December 9-10, 2011.

USATF National Junior Olympic Cross Country Qualifiers

Sub Bantam Girls: Alex Age, Autumn Brent
Bantam Boys: Joshua Brooks, Joel Gassiott
Midget Boys: Jules Perrodin, Solomon Brent
Youth Boys: Kenneth Lange, Terrance Lange

Note: Athletes Kassandra Luna, Kayla Luna and Tate McMillan also qualified for Region 12 competition but were not able to attend.