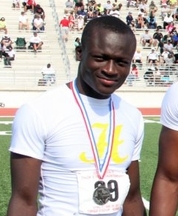 Ahmed Ali
The Houston area is widely known as a hotbed of athletic talent in the state of Texas and the nation. Many track and field athletes from this area are ranked in the top 10 in the country with several of them being Track Houston athletes.

On the weekend of April 27-28, the University Interscholastic League (UIL) conducted it's annual High School Regional Track and Field Championships. The 4 regional meets determined who will qualify for the state high school championship meet which will be held in Austin, Texas on May 11-12.

The Track Houston high school athletes were represented well in the regional meets with 20 athletes qualifying for the 2012 UIL State Track and Field Championships.

Regional Meet Results
Region 3 5A BoysAhmed Ali

1st – 200m – 20.79
2nd – 4x100m Relay – Alief Hastings – 41.56
2nd – 4x200m Relay – Alief Hastings – 1:25.88


James Arnett

2nd – 4x100m Relay – Alief Hastings – 41.56
2nd – 4x200m Relay – Alief Hastings – 1:25.88


Terrell Clement

1st – 110m Hurdles – 14.09
1st – 300m Hurdles – 37.40


Kyle Fulks

1st – 100m – 10.46
3rd – 200m - 20.98


Xavier MossTortseju Kuyatsemi (TK)

2nd – 4x100m Relay – Alief Hastings – 41.56
2nd – 4x200m Relay – Alief Hastings – 1:25.88


O'Shea Wilson

3rd – 4x200m – Fort Bend Bush – 1:26.20
Region 3 5A GirlsJasmine Grace

1st – 4x100m Relay – Fort Bend Hightower – 46.78
1st – 4x200m Relay – Fort Bend Hightower – 1:38.50


Rushell Harvey

1st – 200m – 24.23
2nd – 100m – 11.90


Mylana Hearn

1st – Triple Jump – 38′-10″


Jasmine JackOlubunmi Okunade

1st – 4x400m Relay – Fort Bend Bush – 3:45.89


Skylar Ross Ransom

1st – 100m Hurdles – 13.93
2nd – 4x100m Relay – Langham Creek – 47.16


Kelsey Roy

2nd – 100m Hurdles – 14.33


Region 2 5AAlaysha Johnson

3rd – 100m Hurdles – 14.19
2nd – 400m Hurdles – 42.65
3rd – 4x100m Relay – Spring Westfield – 46.94


Zarriea WillisRegion 3 4ABealoved Brown

1st – 100m – 11.84
1st – 200m – 23.89
1st – 4x100m – Beaumont Ozen – 46.92
1st – 4x200m – Beaumont Ozen – 1:41.18


Matthew Oubre

3rd – Discus Throw – 159′-2″

Region 4 5AKiana Horton

1st – 4x400m – Northside Stevens – 3:55.76
2nd – 4x200m – Northside Stevens – 1:41.44


Region 4 2ADevin Parks

1st – 100m – 10.67
2nd – 200m – 22.61
1st – 4x100m – Edna – 42.51
1st – 4x200m – Edna – 1:29.60