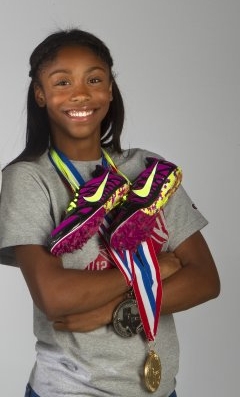 The Houston Chronicle selected sophomore Alaysha Johnson as the 2012 All-Greater Houston Track and Field Girls Athlete of the Year. She was surprised and honored to be selected for such a distinguished award.

In her second year of competing in hurdle events, Alaysha won the 2012 Texas State High School title in the 300m hurdles with a time of 41.83 seconds which ranked her 10th in the country. She also placed second in the 100m hurdles which was the 13th fastest time in the nation.

In an interview with Angel Verdejo of the Houston Chronicle, Alaysha explained that she wanted to run hurdles like her big brother Crayton but didn't realize it would be so technical. The first time she ran the hurdles she fell and bruised herself but it was Crayton who encouraged her to keep trying. Little did Alaysha know that she would become one of the best hurdlers in the country, and only a sophomore.

In the Houston Chronicle's article Alaysha explained how she felt after winning the state title.

[. . . It was amazing - it was - and it was surprising. You want to say that you expect to win, but everybody expects to win. It doesn't hit you until like the day after and you just think, 'I won state.' It was such a great experience . . .]

Alaysha has been a member of the Track Houston family since she was 7 years old and became interested in hurdle events 2 years ago. She looks forward to competing for the state title again but her immediate attention is to compete for the national title at the Junior Olympics this year. She has a special talent and one to look forward to in the future. Remember her name, Alaysha (Laylay) Johnson.