A visit to Washington DC to see the White House and historical monuments capped off a week of tense competition endured by our athletes. Several Track Houston athletes participated in the 2012 USATF National Junior Olympic in Baltimore MD where they won 4 Gold, 2 Silver and 5 Bronze medals. Altogether, Track Houston athletes accumulated 60 medals for places first through eighth.

Camila Vicens was new to track this year and did not know what to expect but after several track meets her site coach Marcus Davis suggested she try the race walk event. He gathered the necessary information and began her training. Camila grasped the training and never looked back. In her first year of participating in track, she won her second national gold medal in the bantam girls division 1500m race walk at the USATF Junior Olympics. She won her first gold medal at the USATF Youth Outdoor Nationals in Arlington, TX in late June. Great job Camila and coaches.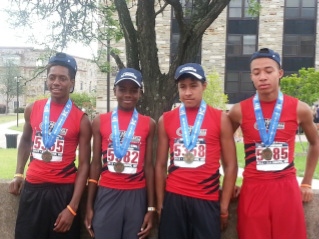 The Track Houston Youth Boys came away from Baltimore with Gold in 2 events, 1 Silver and 1 Bronze. The 4x800m relay team of O'Shae Clark, Kenneth Lang, Oscar DeLeon and Robert Lewis won their gold in a time of 8:33.11. Gold was also won in the 4×400 meter relay team of Dominique Lang, Robert Lewis, O'Shae Clark and Oscar DeLeon with a time of 3:27.81. The youth boys currently rank No. 2 in the country in the 4x400m and No. 3 in the 4x800m. O'Shae Clark came away with Silver in the 800m and stepped in on the 4x100m relay with teammates Broderick Jones, Shamon Ehiemua, Dominique Lang to win Bronze. The boys made a great showing at the Junior Olympics and with training and support from Coaches Daryl Sanford, Keith Evans and Terrance Lange, Track Houston has one of the nations top youth boys division.

The Young Men division 4x100m relay team of Kyle Fulks, Ahmed Ali, Jermaine Authorlee and O'Shea Wilson won Gold at the USATF National Junior Olympic in Baltimore, MD. Three weeks earlier at the USATF Region 12 meet in Lubbock, TX, that same team set a new USA Track and Field national record with a blazing time of 39.56. The previous record of 39.73 had stood for 14 years and was set by a previous generation of Track Houston young men. The 2012 Young Men 4x100m relay team is now part of history and those 4 names will be inked in the record books.