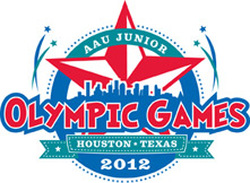 Houstonians didn't have to go far to compete against the nations best. In fact, some Track Houston athletes were in walking distance of the stadium. This year AAU brought their national Junior Olympic Games and 17,000 athletes to the Houston area for a week of heated competition in 100 degrees temperature. Over 11,000 of those athletes competed in track and field events hosted at Turner Stadium in Humble, TX.

Track Houston had 205 athletes to qualify for the AAU Junior Olympic and had athletes entered in almost all events offered. The diversity of our athletes' skills is attributed to the dedication, knowledge and training from our volunteer coaching staff.

That training paid off as our athletes displayed their skills on another national stage in front of family, friends, teachers and neighbors who were not disappointed. They won 9 gold medals 7 silver and 7 bronze medals. The award presentation also awarded medals to 4th through 8th place which brings the total to 105 medals won by Track Houston athletes.

One of those gold medals was awarded to Dynasty McClennon of the Sub Bantam Girls division. She won the 400 meter run with a time of 1:06.22 in a thrilling finish where only the finish line photo could decide the winner. She also won Silver in the 200m with a time of 27.85 in a crowed field of 81 competitors. Alone with first place, Dynasty broke the previous national record of 27.98. Another silver medal was earned by Dynasty and her 4x400m relay team of Jalen Elrod, Daja Maxey and Peyton Vancourt.

Camila Vicens won her third national gold medal in the Bantam Girls 1500m race walk at the AAU Junior Olympic and the other 2 were won at USATF Junior Olympic and USATF Youth Outdoor. Camila also set a new record at the USATF Gulf association meet with a time of 8:57.70 and another one at USATF Region 12 in a time of 8:30.68.



In the Bantam Boys division, Ian Gilmore won 1st out of 82 competitors in the 400 meters run with a time of 1:00.35. It was his personal best time of the season and one second faster than second place. Ian also won the Bronze medal in the 800m. Being a member of the 4x100m relay team, Ian and his teammates Joel Delva, Bryson Stubblefield and Kentrell Singleton won gold with a time of 52.19 seconds. With that outstanding time the boys propelled themselves to the No. 1 ranked 4x100m relay team in the country in their division.

Dwan Seaton has been throwing the javelin since he was a Bantam but a national Junior Olympic title has always eluded him, until now. Dwan won gold this year in the javelin throw in the Intermediate Boys division with a distance of 149 feet.

Winning the 300m hurdles and placing second in the 100m hurdles at the Texas High School State Championships (UIL) made Alaysha Johnson one of the top hurdlers in the state this year. Winning the 100 and 400 meters hurdles at the AAU National Junior Olympic made her the top hurdler in the country for the Intermediate Girls division. This is a great accomplishment for someone who has only been participating in hurdle events for 2 years but I'm sure many more good years await her in these 2 events. Alaysha also participated in the 4x400m relay with teammates Zarriea Willis, Taylor Bennett and Farrin Davis. They won the silver medal and broke the previous record alone with the first place team.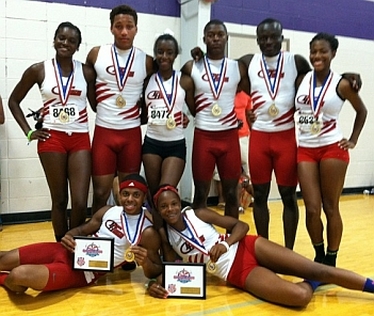 Young Men/Women Divisions displaying 4x100m Gold Medals
Well, records are made to be broken or so they say. Anytime the Young Men division's 4x100m relay team stepped on the track, that was a possibility. It became a reality at the AAU Junior Olympic when the 4x100m relay team of O'Shea Wilson, Jermaine Authorlee, Ahmed Ali and Kyle Fulks set a new AAU national record running 40 seconds flat beating the old record of 40.24. One month earlier the same relay team set the USA Track and Field national record with a time of 39.56 seconds. The young men 2012 season has been a great one for this relay team, winning 2 national championships and setting a AAU and USATF national record. This act will be a hard one for any relay team to follow.

In the Young Women division, the 4x100m relay team set the stage for the Young Men's team by winning their own gold. The team of Bria Carter, Bealoved Brown, Akeyla Mitchell and Dominique Taylor won first place in a time of 45.99 seconds.

Excerpt from YourHoustonNews.com:

[ . . . The top area club in relays was Track Houston which won three AAU titles and 12 medals of bronze or better. The stellar team of O'Shea Wilson, Ahmed Ali, Jermaine Authorlee, Kyle Fulks, Jacob Onyechi and Lawrence Johnson broke national record in the Young Men 400-meter relay, running 40 seconds flat.

Bealoved Brown, Bria Carter, Erica Davis, Akeyla Mitchell and Dominique Taylor ran a 45.99 to claim the Young Women 400-meter relay for Track Houston. The club's sprint relay team of Joel Delva, Ian Gilmore, Kentrell Singleton and Bryson Stubblefield won the Bantam boys national title in 52.19.

Also starring for Track Houston was the relay group of O'Shae Clark, Dominique Lang, Robert Lewis, Oscar De Leon, 'Nikalos Harrell, Shamon Ehiemua, Broderick Jones, Kenneth Lange and Jacobe Finley who combined for two silver medals and a bronze in the Youth boys division . . . ]