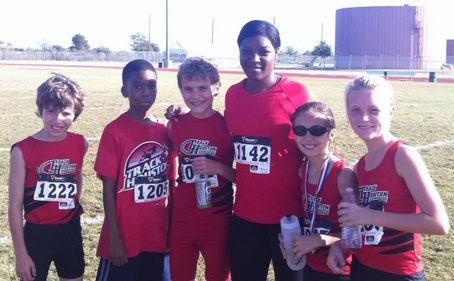 In Track Houston's third year of its cross country program, it made big strides increasing athletes participation and their accomplishments. Head Coach Kenya Artis and Coach Ken Gandy trained 27 athletes this year with the goal of making it enjoyable while encouraging the athletes to do their best.

Thirteen of those athletes competed in the USATF Regional 12 Cross Country meet held in Rockwall, TX. This meet is the qualifying meet for the National Cross Country Junior Olympic.

From the Regional meet, top honors goes to Camila Vicens who won the 3K in the bantam girls division and the Midget Boys who won the team title with 5 boys from the club competing in that division.

Riley Lindhorst, Camila Vicens, Rachel Whipple, Cole Lindhorst and Aye Devany were some of the Track Houston athletes who qualified for the USATF National Cross Country Junior Olympic and will travel to Albuquerque, NM on December 7th to compete at the highest level. Good Luck to all of the athletes.

Coach Artis stated "What a journey it has been. A lot of sweat and of course some tears. But I am truly thankful for the opportunity to coach and have all of your support. Thanks for letting me do this."

There are lots of coaches out there but to be dedicated, hardworking and doing it for the love of the kids are attributes of Coach Artis, a Track Houston coach doing it the Track Houston way.