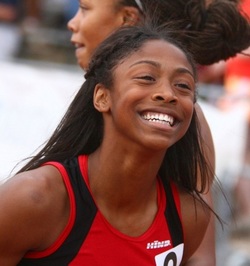 Alaysha Johnson
was once again honored for her achievements.
The Gatorade
Company, in collaboration with USA TODAY High School Sports, named Alaysha Johnson
as its 2012-13 Gatorade Texas Girls Track & Field Athlete of the Year.
The award, which recognizes not only outstanding athletic excellence, but also high standards of academic achievement and exemplary character demonstrated on and off the track, distinguishes Johnson as Texas's best high
school girls track & field athlete.
Alaysha, a longtime member of Track Houston, won the 100 meter hurdles and 300 meter hurdles at the 2013 Texas UIL High School Track and Field Championships. The previous year she won the 300 meter hurdles and was second in the 100 meter hurdles. Also at the 2012 USATF National Junior Olympic, she won the 100 meter hurdles and the 400 meter hurdles.
The Track Houston family is very proud of Alaysha's accomplishments and knows that she is very deserving of this honor.
Gatorade Texas Girls Athlete of the Year press release