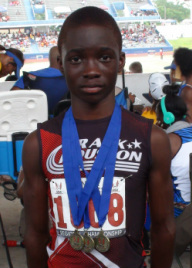 At the USATF Region 16 meet held in Houston on June 14, Ian Gilmore set a new Association record in the 11-12 boys 800m with a time of 2:15.08 and during the second week of competition he smashed the 400m record with a time of 54.96. Ian was also part of the 4x100 meter relay team that almost broke the record with a thrilling come from behind on the forth leg to give his team the victory. All 3 event times rank at the top of the performance list going into the USATF National Junior Olympic held at the end of July.

Ian duplicated his record breaking ways at the AAU Region 17 meet. In the 400m he set the record in a time of 56.77 and the 800m time of 2:15.35.

Ian is a rare talent that can win the 200, 400, 800 and 1500 all with very good times. His strong work ethics and desire to succeed is what keeps him at the top. Congratulations to Ian on his recent achievements. His Track Houston family looks forward to seeing his future success and growth as a student athlete.