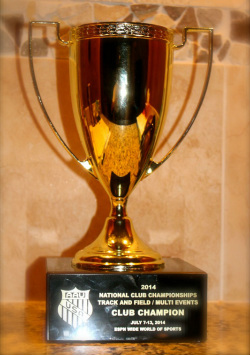 Track Houston traveled to Orlando, Florida to compete in the AAU National Club Championships during the week of July 7th through 13th. Nearly 5000 athletes competed at the ESPN Wide World of Sports Complex located in the Walt Disney World Resort.

Not only were there athletes from across the United States but there were others that traveled from Puerto Rico, Jamaica, Bahamas, the United Kingdom, Finland, Norway, Canada and Colombia that also competed. This type of event gives our athletes exposure to international competition, cultural behaviors and an experience they will remember.

With 150 Track Houston athletes, the club won the overall National Club Championship out of 324 clubs competing. The club scored 590.50 points, 200 more than the second place team Miami Garden Xpress.

Track Houston athletes set 5 new meet records, won 23 first place awards, won numerous age division awards and brought home 226 medals.

Track Houston has some of the best athletes in the country and in its 25th year, still keeping the tradition alive.