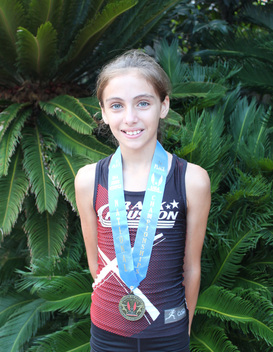 Camila Vicens is a special talent that found her niche in track and field and surged to the top of the 1500 meter race walk event nationally winning almost every time she stepped on the track. Her résumé includes 10 national championships, 2 silver medals and 3 national records. In addition, she earned gold as part of the 4x800 meters relay team in 2014.
In her first year of track, Camila's site coach Marcus Davis suggested she try the race walk event and with some training for that event, she quickly learned all the techniques. During that summer of competition, Camila won 3 national gold medals. With that success it was apparent that the race walk would be her event in youth track and field. In addition to the race walk, Camila has excelled in the 3000m run winning first at the USATF Youth Outdoor and winning silver at the AAU Club Championships in 2014.
The 2014 year is the last year Camila will be able to perform in the 1500m race walk since next year she will move up to the 13-14 girls division which includes the 3000m race walk. Although this event will be new to her for youth track and field competition, she has already been attending race walk camps to prepare for it. She had an outstanding 3 year career and we look forward to seeing the success with her new challenges.
Camila Vicens 3 Year Achievements:
2014

Gold - 1500m Race Walk - USATF National Junior Olympic
Gold - 4x800m Relay - USATF National Junior Olympic
Gold - 1500m Race Walk - USATF Youth Outdoor
Gold - 3000m Run - USATF Youth Outdoor
Gold - 1500m Race Walk - AAU National Junior Olympic - new record 7:12.16
Gold - 1500m Race Walk - AAU National Club Championships - new record 7:08.99
Silver - 3000m Run - AAU National Club Championships
2013
Gold - 1500m Race Walk - USATF Youth Outdoor

Gold - 1500m Race Walk - AAU National Junior Olympic - new record 7:17.80

Silver - 1500m Race Walk - USATF National Junior Olympic
2012
Gold - 1500m Race Walk - USATF Youth Outdoor
Gold - 1500m Race Walk - AAU National Junior Olympic
Gold - 1500m Race Walk - USATF National Junior Olympic