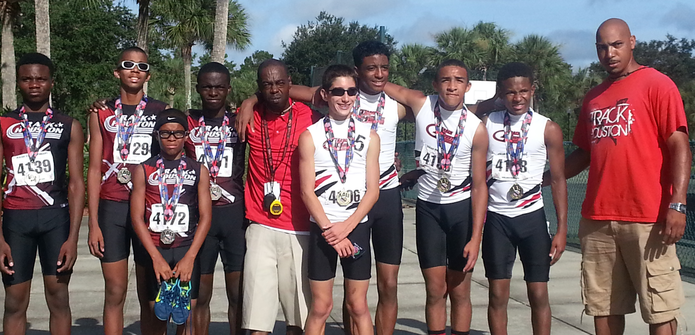 The Track Houston 13-14 boys had an exemplary 2014 track season. Competing in 3 national meets, this group of boys won 8 national championships, won over 70 total medals and set 2 new records.

The 4x800 A-team of Deonte Bradford, Lucas Bourgoyne, Nathaniel McRae, Solomon Brent and the B-team of Andrew Gandy, Audraleous Henderson, Cameron Gilmore and Darrell Simoneaux dominated their event by winning gold and silver at the USATF Junior Olympic and at the AAU Club Championships. At the AAU Junior Olympic the teams won gold and bronze. These 2 relay teams are the top ranked 4x800m relay teams in the country. This is the third straight year this division has won this event and looks forward to making it 4 in a row.

During the AAU National Club Championships held in Orlando FL, Deonte Bradford set a new AAU Club meet record in the 14 year old 800 meters with a time of 1:59.70 and in the 13 year old division Lucas Bourgoyne set a new record in the 3000 meters in a time of 9:30.78.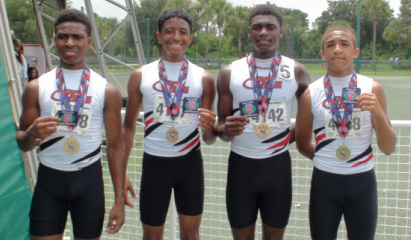 Also at the AAU Club meet the 13-14 boys faced strong competition in the 4x400m relay race that ended in a thrilling finish. The team of
Kendon Flowers, Deonte Bradford, Bryson Jackson and Nathaniel McRae,
ran a great race but the forth leg Bryson Jackson was in a back and forward battle with the forth leg of the Miami Garden Xpress team to end the race in a photo finish. After a few seconds the timing system showed "1. Track Houston" with a time of 3:26.57, one hundredth of a second faster than the second place team Miami Garden Xpress. This Track Houston relay team also won gold at the USATF Junior Olympic and silver at the AAU Junior Olympic.
Excerpt from www.yourhoustonnews.com:
[ . . .
Track Houston led the Houston area with 10 national championships including six in relays. The club was particularly impressive in the boys 13-14 division as Bryson Jackson, Deonte Bradford, Kendon Flowers and Nathaniel McRae won the 1,600 meter relay in 3:28.05 and Deonte Bradford, Lucas Bourgoyne, Nathaniel McRae and Solomon Brent won the 3,200 meter relay in 8:44.14
. . . ]