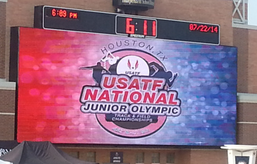 There's no place like home. That statement rang true for Track Houston as the club amassed
10 USATF National Junior Olympic Championships
at Turner Stadium. This year the nation's best talent in youth track and field met in Houston to compete and crown its champions.
Houston area clubs had a very strong contingency of athletes competing but it was Track Houston athletes that kept 142 medals home.
Starting the medal count was
Camila Vicens
in the 11-12 girls 1500m race walk. She won gold in a time of 7 minutes flat, one minute faster than second place. Over the past 3 USATF Junior Olympics, Camila has won 2 gold and 1 silver making her one of the most successful athletes in the 1500m race walk event. Camila also was part of the 11-12 girls 4x800m relay of
Camille Napier, Jalen Elrod and Kiarra Wafer-Randle
that also won gold. All the girls on the relay team ran great but it was Camille Napier who was in a battle on the forth leg but eventually she wore down her competition to secure victory.
Excerpt from www.yourhoustonnews.com:
[ . . .
Track Houston led the Houston area with 10 national championships including six in relays. The club was particularly impressive in the boys 13-14 division as Bryson Jackson, Deonte Bradford, Kendon Flowers and Nathaniel McRae won the 1,600-meter relay in 3:28.05 and Deonte Bradford, Lucas Bourgoyne, Nathaniel McRae and Solomon Brent won the 3,200-meter relay in 8:44.14
. . . ]
In the 15-16 girls division the 4x800m relay team of
Dinah Murphy, Janae Simoneaux, Sydney Gandy and Tyler Rose
won gold in time of 9:38.15.
The Track Houston 15-16 boys division claimed 3 national championships and 29 total medals. Their first championship can as a result of winning the 4x800m relay with the team of
Cameron White, Oscar DeLeon, Randall Jubilee and Robert Lewis
. Also in the 15-16 boys division,
Shamon Ehiemua
won gold in the 100m dash in a time of 10.90 and silver in the 200m in a time of 21.58.
Isaiah Lucas
collected his gold in the 110 hurdles with a time of 14.31.
Akeyla Mitchell
ran her last 200m race before entering college at Kansas State University. She won the 17-18 women 200m dash with a time of 23.85.
For the second time in 3 years the 17-18 men won gold in the 4x100m relay. The team of
Tracy Watson, Malcolm White, Bryce Deadmon and Malik D. Wilson ran a time of 40.65.
www.yourhoustonnews.com article and results