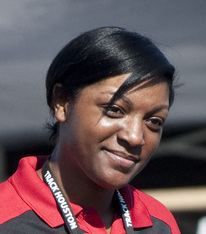 Coach Kenya Artis has been selected as Youth Coach of the Year for the Southwest Zone by the National Youth Track Coaches Association. The Association will recognize Coach Artis by presenting her this award at the 2015 National Junior Olympics Track & Field Championships in Jacksonville, Florida during the Opening Ceremonies.

At Track Houston Coach Artis has coached and led 8U and 9-10 girls to several national championships. She was also instrumental in starting the cross country program in 2009 with 5 athletes. The program has now grown to over 100 athletes and 5 practice sites. Currently she is coaching the 13-14 girls and will lead them in their quest for their own national titles.

We appreciate Coach Artis contributions and dedication to the USATF Youth Program at Track Houston. Congratulations Coach Artis for an award well deserved.