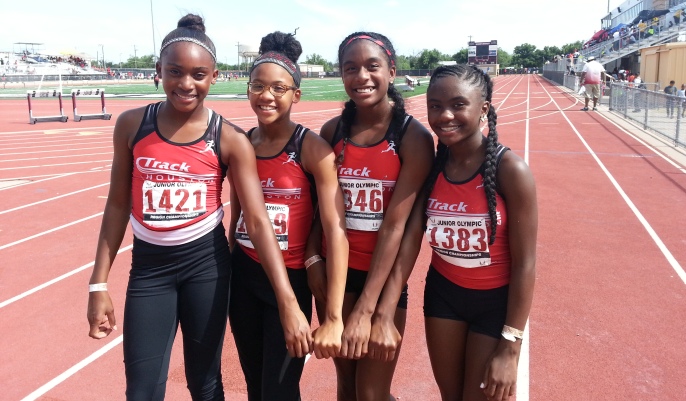 At USATF Region 12 Championships in Abilene Texas,
Track Houston set an astonishing 20 new records
with nine of them being set by the 11-12 Girls division. These girls dominated their competition setting new records in the 1500 meter race walk and all running events, except the 100 meters. The highlight of the meet came when the 11-12 Girls 4x100 meter relay team broke the USATF National record with a time of 49.15. Well, records are meant to be broken, but what Track Houston athletes did in Abilene was nothing short of outstanding.
2015 USATF Region 12 records set by Track Houston:
100m 9-10 Girls - Angel Haynes - 13.78
200m 9-10 Girls - Angel Haynes - 28.20
200m 11-12 Girls - Dynasty McClennon - 25.12
400m 11-12 Girls - Jalen Elrod - 57.86
800m 11-12 Girls - Jalen Elrod - 2:24.40
1500m 11-12 Girls - Kevriana Scott - 4:59.62
1500m 11-12 Boys - Ayenew Devany - 4:48.57
3000m 11-12 Girls - Camille Napier - 10:37.79
1500m Race Walk 9-10 Girls - Sanjana Perungulam - 9:10.13
3000m Race Walk 13-14 Girls - Camila Vicens - 15:50.95
80m Hurdles 11-12 Girls - Tairah Johnson - 13.96
100m Hurdles 15-16 Girls - Javlyn Cameron - 13.94
400m Hurdles 15-16 Girls - Javlyn Cameron - 1:04.11
400m Hurdles 17-18 Boys - Caleb Richmond - 52.47
4x100m Relay 9-10 Girls - Angel Haynes, Brooke Coleman, Danielle Johnson, Kameron Butler - 54.77
4x100m Relay 11-12 Girls - A'Niya Galloway, Dynasty McClennon, Taejha Badal, Daja Maxey - 49.15
4x100m Relay 15-16 Girls - Ariele Adams, Javlyn, Kynnedy Flannel, Rachel Hall - 45.96
4x400m Relay 11-12 Girls - Jalen Elrod, Dynasty McClennon, Taejha Badal, Daja Maxey - 3:59.38
4x400m Relay 11-12 Boys - Tyler Dale, Malik Campbell, Cedric Jenkins, Elijah Bean - 3:56.38
4x800m Relay 11-12 Girls - Heidi Nielson, Natalie Allen, Kevriana Scott, Sophie Atkinson - 10:16.76