Track Houston - Our Story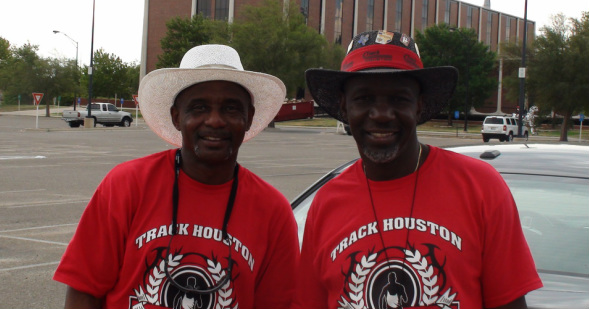 Coach William Mitchell and Johnny Dade
Founders of Track Houston
Track Houston Youth Track Club
was founded in 1989 in Missouri City, Texas by Coach
William Mitchell and Johnny Dade
. Athletes who participate come from the suburbs and the inner-city of Houston, Texas. We are sanctioned by the
USA Track & Field
National Governing body and its local
Gulf Association
for track and field, distance running, race walking and cross country. Our goal is to assist young people ages 6-18 who are interested in improving their physical fitness, mental stamina, and teamwork skills through organized track and field competition.
We have grown from a small, 40 member, one site organization, to seven (7) suburban/city practice sites, with over 100 volunteers, supporting over 500 athletes. Our nationally renowned club is one the largest and most successful youth track clubs in USATF.
In 2012, we trained our athletes with the primary goal to improve their track and field abilities while developing their confidence and self image. The results...105 medals at the 2012 AAU National Junior Olymipcs, 60 medals at the 2012 USATF National Junior Olympic and 7 National Team Championship titles won at the USATF Youth Outdoor Nationals.
We are committed to maintaining an outstanding grass roots organization according to the vision of our founders.
---
It's All About the Kids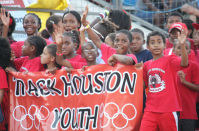 Although Track Houston is arguably the largest youth track organization in the world, we measure our success not in size, but through the educational, social and travel experiences the athletes gain each season.

During the spring, we attend each practice meet sponsored by the Gulf Coast Association. Coaches provide tents for each age division, creating a gathering space for all their athletes. By centralizing our squads, safety is increased and coaches have all-day access to facilitate coaching/mentoring opportunities. When not competing, kids will be kids…talking, laughing, playing and spending an entire day outside in fresh air.

The athlete's performance times/marks are documented in a progress report and distributed to parents on a weekly basis. No matter what the marks are at the beginning of the season, it is always encouraging to the child to see his/her marks continuously improve during the season.

To enrich the athlete, we have committed to team travel. We attend the USATF Regional and Junior Olympics, at times moving more than 500 athletes, coaches, administrators, family and supporters. We traditionally attend the USATF Youth Outdoor Championships traveling to Charlotte NC, Detroit, Chicago and Arlington TX in recent years. In 2011, we sent over 160 athletes to Witchita, KS to participate in the USATF National Junior Olympic.

We support our elite athletes as they strive for TEAM USA by preparing them for championship performances at international events. In 2009, Matt Kosecki competed at the Pan American Junior Athletics Championships in Tobago, Trinidad and Tobago. In prior years, our athletes have qualified to compete in Ireland, China, Morocco, and Italy representing TEAM USA. Coach Joe Felder and Coach William Valerie are prior IAAF World Youth Team coaches bringing direct international competition experience to the athletes of our club.

At season's end, we are successful if our athletes have enhanced exposure, are in better health and have increased self-esteem. At Track Houston, our primary focus is athlete development, not athletic development.

---
---
Improved Academics through Competition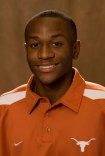 Many of our graduating seniors earn university track scholarships. This is not by accident. We encourage an environment where athletes are taught athletic achievement is not enough to secure a scholarship. We expose athletes to programs from the major universities and to small programs throughout the United States. We believe each athlete who wants to compete in college can do so, if they are willing to go where the opportunities are and be academically prepared when they get there.

We encourage our high school athletes through SAT preparation, NCAA Eligibility enrollment, and communications with university track programs. Track Houston offers the SAT-tutorial program called The 800 Club which has been proven to help students of all academic abilities to achieve a score that will help the athlete get that scholarship to the school of his/her choice.

---
---
Our Track Meet…Where the Best Come to Compete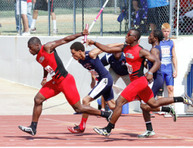 The annual Track Houston Track Meet is the last Gulf Association USATF sanctioned event prior to the regional championship each year. Meet leadership has made the Track Houston track meet the event of choice for clubs who want to compete with the fastest, strongest and most skilled athletes in the Gulf Coast. The meet hosts Gulf Association clubs, AAU clubs and out of state competitors as far as California.

Notable athletes who have competed at this meet in the past include Adrian Peterson (Minnesota Vikings/Oklahoma), Kerron Clement (Gold Medal Olympian/Florida), Brian Iwuh (Jacksonville Jaguars/Colorado), various NCAA All-Americans, and multiple UIL Texas State champions.

---
---
We're Not Just About Winning Medals…But We Win a Few


Track Houston athletes bring home about 160 medals from the National Junior Olympics annually and included in that count are several gold. Strong relays allow robust team participation by many athletes, but we also focus on individual/open event growth for our athletes. Each year we hope to celebrate a Track Houston national champion in events from the jumps, to the throws, hurdles, middle distance, and multi-events. In addition, our participation in the USATF Youth Outdoor Nationals renders national team titles by our age divisions.

Our results prove our methods and infrastructure foster excellence not only for our elite athletes, but also for the hundreds of children who join Track Houston each year having no prior track and field experience.

---