2012 USATF & AAU National Junior Olympic Results


2012 Junior Olympic National Qualifiers

Track Houston had 205 athletes to qualify for the AAU National Junior Olympic Games and had athletes entered in almost all events offered. The diversity of our athletes' skills is attributed to the dedication, knowledge and training from our volunteer coaching staff. That training paid off as our athletes won 9 gold medals 7 silver and 7 bronze medals. The award presentation also awarded medals to 4th through 8th place which brings the total to 105 medals won by Track Houston athletes.

Several Track Houston athletes participated in the 2012 USATF National Junior Olympic in Baltimore, MD where they won 4 Gold, 2 Silver and 5 Bronze medals. Altogether, Track Houston athletes accumulated 60 medals for places first through eighth.

---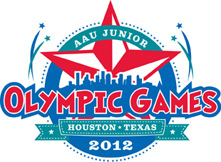 2012 AAU Junior Olympic Games

---
Gold Medals (18)

SBG 400m - Dynasty McClennon

BG 1500m Race Walk - Camila Vicens

BB 400m - Ian Gilmore

BB 4x100m Relay
Joel Delva
Ian Gilmore
Kentrell Singleton
Bryson Stubblefield

IG 100m Hurdles - Alaysha Johnson

IG 400m Hurdles - Alaysha Johnson


IB Javelin - Dwan Seaton Jr.

YW 4x100m Relay
Dominique Taylor
Bria Carter
Akeyla Mitchell
Bealoved Brown

YM 4X100m Relay
O'Shea Wilson
Jermaine Authorlee
Ahmed Ali
Kyle Fulks

---
Silver Medals (25)

SBG 200m - Dynasty McClennon

BG 4x400m Relay
Jalen Elrod
Daja Maxey
Dynasty McClennon
Peyton Vancourt

MB 4x800m Relay
Jules Perrodin
Deonte Bradford
Solomon Brent
Andrew Gandy

YG 4x800m Relay
Dinah Murphy
Imani Williams
Sydney Gandy
Kennedae Hollier


YB 4x400m Relay
O'Shae Clark
Dominique Lang
Robert Lewis
Oscar De Leon

YB 4x800m Relay
O'Shae Clark
Kenneth Lange
Robert Lewis
Oscar De Leon

IG 4x400m Relay
Taylor Bennett
Farrin Davis
Zarriea Willis
Alaysha Johnson

---
Bronze Medals (16)

PB 4x100m Relay
Jalen Davis
Lynton Edwards
Mitchell Mosby
Sean Smith

SBG Shot Put - Arianna Stegall

BB 800m - Ian Gilmore

SYG 3000M - Imani Williams


YG 4x100m Relay
Ariele Adams
Destiny Sauls
Morgan Davis
Kennedae Hollier

YB 4x100m Relay
O'Shae Clark
Dominique Lang
Shamon Ehiemua
Broderick Jones

YW 100m - Bria Carter

---
4th Place Medals (8)

PB Shot Put - Cordell Nwokeji

SBG 400m - Jalen Elrod

SBG 800m - Jalen Elrod


IG 4x800m Relay
Farrin Davis.
Alysse Grogan
Eriana Henderson
Alexis Metoyer

IB 100m - Mark Barre'

---
5th Place Medals (8)

PG 800m - Ireyana Jefferson

BB 1500m - Joshua Brooks

SYG Javelin - Kaylah Shepherd

YG 1500m - Sydney Gandy


IB 4x800m Relay
Derick William II
Kendall Brown
Zahir Nobles
Malik Wilson


---
6th Place Medals (16)

PG 4x100m Relay
Ireyana Jefferson
Lauren Moore
Taylor Sowells
Madisyn Woodfork

SMB 80m Hurdles - Caleb Cavanaugh

SYG 100m Hurdles - Javlyn Cameron

SYB Long Jump - Myles Wanza


YG 4x400m Relay
Ariele Adams
Morgan Davis
Charity Thomas
Kennedae Hollier

IG 100m - Farrin Davis

IB 4x400m Relay
Yakemah Siverand
Montria Brown
Malik Wilson
Mark Barre'

---
7th Place Medals (6)


PG 800m - Miracle Price

PG Long Jump - Daria Bush

SMG High Jump - Kalei Walker

YG 800m - Sydney Gandy

YB Javelin - Sergio Domenech

YW 200m - Bria Carter


8th Place Medals (8)


SBG 400m - Maryah Hampton

MG 4x100m Relay
Tamia Jones
Zhara Berry
Makaela Bush
Morgan Cossey

MB 3000m - Andrew Gandy

SYG 200m - Destiny Sauls

YB 100m Hurdles - Cameron Ehle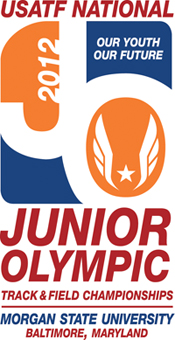 2012 USATF National Junior Olympic

---
Gold Medals (15)

BG 1500m Race Walk - Camila Vicens

YB 4x400m Relay
Final Prelim
O'Shae Clark Shamon Ehiemua
Robert Lewis Nikalos Harrell
Dominique Lang
Oscar DeLeon


YB 4x800m Relay
O'Shae Clark
Robert Lewis
Kenneth Lange
Oscar DeLeon

YM 4x100m Relay
Ahmed Ali
Kyle Fulks
Jermaine Authorlee
O'Shea Wilson

---
Silver Medals (9)

BG 4x400m Relay
Jalen Elrod
Daja Maxey
Dynasty McClennon
Peyton VanCourt


MB 4x800m Relay
Andrew Gandy
Solomon Brent
Cameron Gilmore
Jules Perrodin

YB 800m - O'Shae Clark

---
Bronze Medal (11)

SBG 400m - Ireyana Jefferson

SBG 4x400m Relay
JaNisha Johnson
Grace Howard
Ireyana Jefferson
Miracle Price

BG 200m - Dynasty McClennon


BB 800m - Ian Gilmore

YB 4x100m Relay
O'Shae Clark
Dominique Lang
Shamon Ehiemua
Broderick Jones

---
4th Place Medals (2)


SBG 400m - Miracle Price

SBG 800m - Ireyana Jefferson


6th Place Medal (2)


BB 100m - Bryson Stubblefield

BB 400m - Ian Gilmore

---
7th Place Medal (7)

SBG 800m - Miracle Price

BB 200m - Bryson Stubblefield


BB 4x100m Relay
Joel Delva
Ian Gilmore
Bryson Stubblefield
Kentrell Singleton

YB 800m - Oscar DeLeon

---
8th Place Medals (14)

SBG 4x100m Relay
Grace Howard
JaNisha Johnson
Lauren Moore
Madisyn Woodfork

SBB Javelin - CJ Nwokeji

BG 4x400m Relay
Jazelle Williams
Jordyn Sasser
Kiarra Wafer-Randle
Rachel Whipple


BB 4x400m Relay
Joshua Brooks
Aristide Brown
Bryce Wands
Kentrell Singleton

YB 800m - Robert Lewis