2013 USATF & AAU National Junior Olympic Results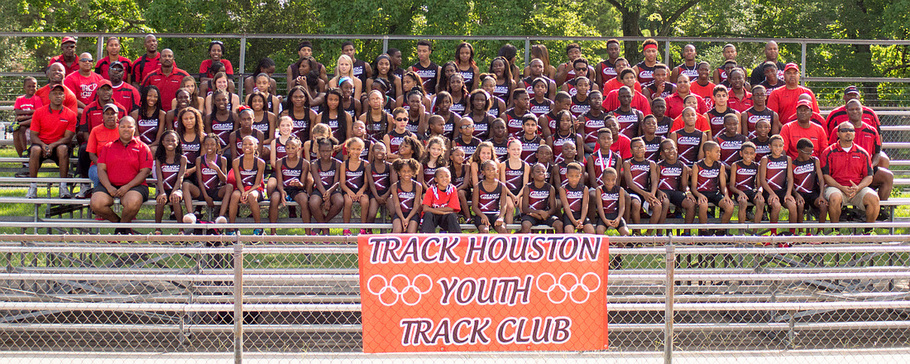 2013 USATF National Junior Olympic Qualifiers

Track Houston has won 8 or more championships for the fourth consecutive year. This year 7 of those championships were won at the USATF National Junior Olympic in Greensboro, NC. Another national championship was won at the AAU Junior Olympic Games in Ypsilanti, MI. This year Track Houston athletes brought home 109 medals from the USATF Junior Olympic.

---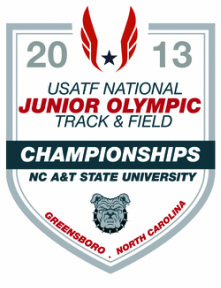 2013 USATF National Junior Olympic

---
Gold Medals (16)

9-10G Long Jump - Adaora Nwokeji

9-10G Shot Put - Arianna Stegall

9-10G 4x400m Relay
(new national record - 4:17.32)
Dynasty McClennon
Daja Maxey
Maryah Hampton
Jaylen Elrod

11-12B 3000m - Lucas Bourgoyne

15-16G Long Jump - Samiyah Samuels


13-14B 4x800m Relay
Matthew Abrahams
Deonte Bradford
Randall Jubilee
Tyler Litton

15-16B 4X800m Relay
Kendall Brown
Cameron White
Robert Lewis
Oscar DeLeon
---
Silver Medals (5)

9-10G 200m - Dynasty McClennon

9-10G 400m - Dynasty McClennon

11-12G 1500m Race Walk - Camila Vicens

13-14G 3000m - Rebecca Eggeling

13-14G Javelin - Kaylah Shepherd

---
Bronze Medals (29)

7-8B 200m - Jacob Berry

7-8B 4x400m Relay
Jacob Berry Ben Harrison (alt.)
Demanuel Brown Kaiden Jones (alt.)
Elijah Charles
Da'John Palomo

9-10G 400m - Jalen Elrod

11-12B 4x800m Relay
Ian Gilmore
Joshua Brooks
Lucas Bourgoyne
Phillip Green

13-14B 4x400m Relay
Matthew Abrahams
D'Shawn Jamison
Randall Jubilee
Tyler Litton


15-16G 4x400m Relay
Rahmat Amadu
Sydney Gandy
Kennedae Hollier
Eriana Henderson

15-16B 4x100m Relay
Broderick Jones
Cameron Hubbard
Dedric Johnson
Bryce Deadmon

15-16B 4x400m Relay
O'Shae Clark Robert Lewis (alt.)
Dominique Lang
Dedric Johnson
Bryce Deadmon
---
4th Place Medals (19)

9-10G 1500m Race Walk - Anna-Clare Biggerstaff

9-10B 4x400m Relay
Elijah Bean Christian Phillips (alt.)
Ayenew Devany
Cedric Jenkins
Brian Knight

11-12B 800m - Ian Gilmore

13-14G 4x400m Relay
Anota Adekunle
Braylen Deadmon
Lauryn Combs
Ariele Adams


15-16G 4x100m Relay
Eriana Henderson
Kennedae Hollier
Samiyah Samuels
Charity Thomas

15-16G 4x800m Relay
Sydney Gandy
Eriana Henderson
Jada Pollard
Tyler Rose


---
5th Place Medals (15)

9-10B 4x100m Relay
Cedric Jenkins Joshua Taever (alt.)
AustinCallies
Elijah Bean
Mitchell Mosby

13-14G 1500m - Rebecca Eggeling

13-14G 100M Hurdles - Javlyn Cameron


13-14B 4x100m Relay
Myles Wanza
Tyler Litton
D'Shawn Jamison
Ryan McDaniel

17-18B 4x100m Relay
Mark Barre'
Jecory Hoyt
William Polley
Simon Imagbe

---
6th Place Medals (5)

13-14G 4x100m Relay
Ariele Adams Kayla King (alt.)
Lauryn Combs
Taylor Hill
Javlyn Cameron

---
7th Place Medals (13)

9-10G 4x400m Relay Team B
Daria Bush
Sydnee Curette
Kaylan Johnson
Ireyana Jefferson

11-12B 4x400m Relay
Ian Gilmore
Christian Richmond
Gabriel Taylor
Cord'dric Walton




13-14B 800m - Tyler Litton

15-16G 4x400m Relay Team B
Haley Cossey
Jada Pollard
Morgan Davis
Charity Thomas

---
8th Place Medals (8)

9-10G 400m - Maryah Hampton

9-10B 400m - Brian Knight

13-14G 200m Hurdles - Javlyn Cameron

13-14B 4x400m Relay Team B
Deonte Bradford
Ryan McDaniel
Myles Wanza
Jacob Suber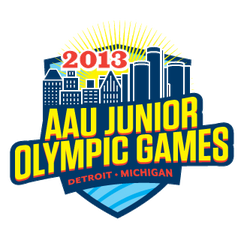 2013 AAU National Junior Olympic

---
Gold - 11 Girls 1500m Race Walk - Camila Vicens
(new national record - 7:17.80)

Silver - 11 Boys 400m - Ian Gilmore

Bronze - 11 Boys 800m - Ian Gilmore

4th Place Medal - 11 Boys 1500m - Joshua Brooks

5th Place Medal - 11 Girls 3000m - Camila Vicens

7th Place Medal - 11 Boys 800m - Joshua Brooks

---